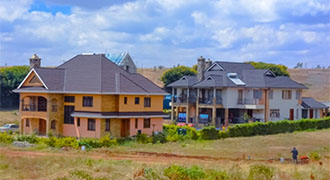 The number of companies in Kenya running real estate business has increased exponentially within the last two years. Most companies are joining the industry targeting the high profits margins attached to the sales and rental of properties. Most have a life span of one to two years before they die out.
When looking for real estate companies, you might get lost in the crowd of the new firms cropping up in every corner. You may also end up in the hands of scammers or amateurs who do not have the technical know how to ensure you follow the right procedure of owning a home. You don't want to buy a property today and have not revoked tomorrow.
So we thought we give you a list of some of the top estate agencies you can trust when looking for property in Kenya.
Home Afrika
Home Afrika is one of the leading real estate companies in Kenya as quoted in Wikipedia and other credible publishers online.To affirm it's the position, Home Afrika is one of the few companies listed in the Nairobi Stock Exchange (NSE) under the "Growth Enterprise Marketing Segment".When you're looking for a property you should look for experience and credibility and Home Afrika have these covered. Currently running on the theme of Affordable properties, Home Afrika is best placed to solve your property needs in 2019.
Villa Care Ltd
Villa Care Ltd is also one of the oldest firms in the Real Estate industry. The company started from a briefcase agency to one of the Key real estate firms in Nairobi. They have a huge listing which will give you an opportunity to pick from the variety. They have properties ranging from Apartments, townhouses, Warehouses and offices.
BuyRentKenya
Buyrentkenya is Kenya's leading property portal. It has one of the biggest listings in Kenya with credible sources. BuyrentKenya does not advertise properties as an agency but it gives realtors and developers an opportunity to showcase their properties online.
Jumia. House
Similar to Buyrentkenya, Jumia house works with Agents and Developer to help them market their properties online. Instead of moving to individual developers site, it is easier to focus on one portal that gives results for all the available properties online.
Property24
Property24 is also a key influence in the Kenya real estate business. They have one of the biggesting listing as they are one of the view online portals that offer free listing services. The site is mostly used by Agents more than the developers. It is a recommended place when looking for real estate properties.
Star classified
Star classified has a category for real estate properties in Kenya. It is not a Kenyam company but deserves a place on this list for having one of the most divers listing in Kenya. It is an ad listing website that has gained alot of traffic and product that it is now part of the influencers in the real estate industry in Kenya.Caution should be practiced when browsing on this website as it aggregates ads from other websites and not all website have credible sources. Some of the credible source websites include Commercial property Kenya (commercialKe), Vaal, Sapama and Hassconsult.
Knight Frank
Knight Frank is the commercial real esttae agency in Kenya established back in 1998. It is an internation company that hasbranches in east Africa. The strong branches include Knight Frank Tanzania and Knight Frank Uganda. Having a complete regional network gives one a variety of properties to choose from.
Hass Consult Ltd
Hass Consult is an agency that was established in Kenya back in 1992 almost a tthe same time that Villacare ltd was established. Hass consult is now to major on the upper market in Kenya and now spreading to Dubai properties. Currently, it is one of the strongest brand doing traditional marketing mostly billboards in Nairobi and its environs.We hope you have gained good insight on the real esttae influencers in Kenya. If you are looking to venture into real esttae, we encourage you to visit our office for free consultation. We will walk with you to ensure you don't loose out and yu get your dream home.